MDT Part A REFRESH WEBINAR
MDT Part A REFRESH WEBINAR
10.04.2021 - 11.04.2021
Online
Magari stai andando bene con valutazione e trattamento dei tuoi pazienti affetti da lombalgia, ma...
Il McKenzie "funziona solo" con alcuni dei miei pazienti
Ho qualche difficoltà nel raccogliere le informazioni rilevanti dalla mia valutazione
La differenziazione non sembra sempre possibile con i miei pazienti
Alcuni pazienti migliorano bene fino ad un certo punto, ma poi non riescono a progredire oltre un certo punto
Non sono ancora sicuro se progredire con una "progressione" di forza o un'"alternativa"
Vado bene clinicamente, ma vorrei fare un ripasso su alcuni aspetti del MDT
Se ti sei riconosciuto in almeno una di queste affermazioni, allora questo aggiornamento fa per te, quindi ti invitiamo ad unirti a noi per queste due sessioni di 4 ore.
Troviamoci per un aggiornamento, un'occasione per porre domande, risolvere problemi insieme e continuare ad andare avanti con il MDT.
Sarà un "allenamento" insieme ai docenti in modo che le tue conoscenze vegano consolidate.
Quindi, ottieni il massimo di ciò che hai imparato... non lasciare che alcuna lacuna nella tua istruzione ostacoli il tuo progresso, ottieni alcuni suggerimenti gli aspetti comuni nella gestione dei pazienti con problemi lombari.
Programma Corso Parte A Refresh McKenzie
Dettagli
Date e ora
10 - 11 april 2021



Quota
120,00 € + IVA

Entro il 14 Febbraio 2021: € 105,00 + IVA (€ 128,10 IVA inclusa)
Dal 15 Febbraio 2021: € 120,00 + IVA (€ 146,60 IVA inclusa)
Posti disponibili
100 Posti
Profili docenti
Sara Luetchford (IT)
MCSP, GRAD.DIP.PHYS, DIP.MDT, OMPT
Profili docenti
Georg Supp (EN)
Dip MDT
Georg has been a fulltime physical therapist since 1992 and is co-owner of the rehabilitation centre PULZ in Freiburg/Germany. He received the MDT Diploma in 1999.
Georg is an international instructor of the McKenzie Institute International and a member of the Education Council of the Institute. The focus of his clinical work is on chronic back and neck patients and extremity problems, especially sports injuries.
Georg has published book chapters, articles, comments and letters in several peer-reviewed journals. He has been the editor Germany's first journal on sports physical therapy SPORTPHYSIO from 2013 – 2017. In 2018 he received the 'Stone of the Wise' from the German Physical Therapy association in recognition of his dedication to the profession.
Currently Georg is conducting research on spinal / extremity differentiation (EXPOSS), patient - therapist communication and return to activity for spinal patients.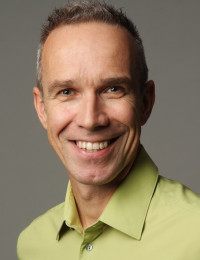 Profili docenti
Richard Rosedale
PT, Dip. MDT, MII International Director of Education
Richard graduated from Loughborough University in 1986 with a degree in Sports Science, and then from Guy's School of Physiotherapy, London in 1992 with a Diploma in Physiotherapy. He completed his Diploma in Mechanical Diagnosis and Therapy (Dip. MDT) in 1997. Richard has worked in orthopedics and in Occupational Health and Safety at London Health Sciences Centre, Canada since 1993.
Richard has been involved in research since 2007 and has authored or coauthored over a dozen papers, primarily exploring the clinical utility of the McKenzie Method. He has been the Institute's Reference Coordinator since 2015.
Since 2003 Richard has been a member of the McKenzie Institute teaching faculty, has served on the Scientific Committees of numerous McKenzie Institute Americas and International Conferences and is a Diploma examiner. In 2005 Richard was appointed on to the International Education Council. He has since been involved in various educational projects including the development of online learning tools, teaching slides, and course manuals. Richard was the recipient of the McKenzie Institute's 2014 Extension Award for his outstanding contributions over many years to both MDT research and MDT education
In 2018 Richard was appointed as the International Director of Education and the Institute's Diploma Coordinator.